Living To Serve Him
Pastor Jake was called by ROGBC to come alongside the body of Christ at ROGBC as the Lead Pastor/Elder. Jake originally came from Texas and is a graduate of The Master's Seminary in California.
Over the last six years Jake has been pursuing the call of God on his life to preach and teach God's word. During that time God has cultivated a deep desire in Jake to minister to his people within the local church and has affirmed that call through his providential leading and confirmation by other leaders.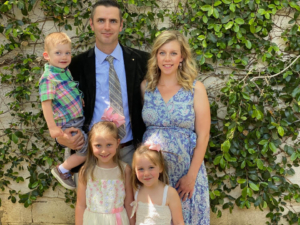 ROGBC's current leadership structure is comprised by a Lead Pastor/Elder (Jake Whitley) and a church council. The current counsel consists of a four members who serve in various roles to help support and lead the church.
It is our long term plan to adapt our leadership model to a more biblically lined out model with Elder Leadership, Deacon Servants, and an Operational Board. This process takes time and we are in the midst of those changes as God is directing us.